Correcting thruster device (KDU)
The correcting gas-jet engine is the executive instrument of the subsatellite control system and is designed for generating tractive force impulses:

to correct the subsatellite motion along its longitudinal Z-axis and perpendicularly to it; - to realize the subsatellite rotation around its longitudinal Z-axis and its damping;
to redirect the longitudinal axis (-Z) to the sunward direction.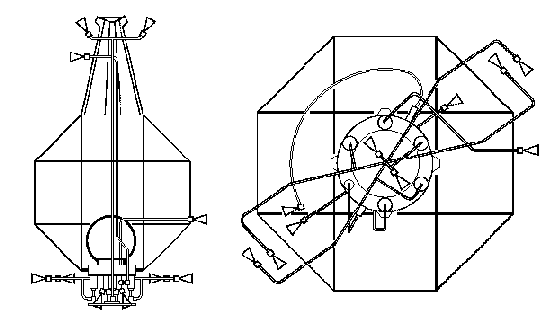 Fig. illustrates locations of KDU and controlling nozzles on a subsatellite with respect to its axes.

Main technical characteristics of KDU are presented in Table.

| | |
| --- | --- |
| Jet body | Compressed air |
| Tractive force of one nozzle for all conditions of its operation | 0.1 +/- 0.007N |
| Normal pressure of the balloon filling for the environment temperature 20 C | 22MPa |
| Range of pressure variations at the input | 0.25-0.37MPa |
| Pre-start gas pressure in the cavity in front of | 0.5MPa |
| Balloon volume | 1.85 liters |
Correcting thruster device was made in "Yuzhnoye" Design Bureau, Dnepropetrovsk, Ukraine.
---

Back to the Magion-4 Spacecraft Home Page